NBS Sport and the Uganda Rugby Union have this morning announced a partnership that sees NBS Sport as the official media partner of Uganda Rugby airing all the Rugby live games.
Speaking at the press conference held at the Next Media Park, NBS Sport General Manager, Joe Kigozi said that the partnership with the Uganda Rugby Union is strategic and relevant to Ugandans at large because there are so many who need to know about rugby as a sport but can't make it to the field.
He also added that the partnership aligns with the goals of NBS Sport whose vision is to transform Ugandan sports since they  made a promise to Champion Ugandan Sport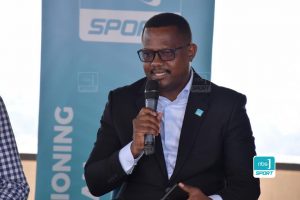 "The partnership with the Uganda Rugby Union brings a new dawn to Uganda Rugby since the matches will be aired live on NBS Sport which makes us the official broadcasters of the league."
"Our intention is not to block other media partners from reporting about the sport however, we shall have the exclusive rights to live broadcast of rugby games."
"We call upon all media houses to continue reporting about the sport," Kigozi added.
Kigozi further stressed that the partnership will not only benefit rugby but will also help profile the players and attract the private sector who will invest more in the sport.
Speaking on behalf of the Rugby Union, Ramsey Olinga, the Chief Technical Officer acknowledged that the partnership is very vital because it will help review games and assess referees to give real-time feedback which will help in the growth of the sport.