The MTN Marathon is back after a three-year hiatus. This year's event is themed, 'run for babies', and will take place on the 20th of November.
Since its inception in. 2004, the MTN Marathon has consistently been a breeding event for Ugandan long-distance runners.
From 2005 world Steeple chase champion Dorcus Inzikuru to current stars like Victor Kiplangat, many of our international icons first made their mark in this charity event before making global headlines.
Uganda athletics federation president Dominic Otuchet reiterates the contribution of this marathon on the success the sport has enjoyed over the years.
" Dorcus Inzikuru, Stephen Kiprotich, Jacob Kiplimo and many other elite athletes first participated in the MTN Marathon before going on to win globally"
Tokyo 2020 3000-meter Olympic steeplechase champion Peruth Chemutai and 2022 commonwealth games marathon champion Victor Kiplangat are two of the many active elite athletes who were nurtured by this marathon.
Chemutai won the 10km women's race in 2017 and 2018 while Kiplangat was second in the same category in the last edition in 2019.
Kiplangat says the prize money given at the marathon makes it an even better competition for elite athletes than some foreign marathons they participate in.
" I like the MTN Marathon because when you win the money, there are no taxes, you get all your money", Victor Kiplangat
" I am very grateful for MTN's support that has enabled me become the successful athlete I am now, competing in the MTN Marathon prepared me well for the international competitions" added Peruth Chemutai
With this year's marathon themed 'run for babies', MTN Uganda Chief Executive Officer Sylvia Mulinge says this is a cause that touches all of us as she calls upon people to participate in numbers.
"Last time we raised about 1.1 billion and the MTN foundation topped up 400 million to make 1.5 billion, this year we want to do double and we can only achieve that when everyone participates"
Next Media Services' deputy group C.E.O and general manager for NBS Sport, Joseph Kigozi highlights the investment the group has made in supporting this noble event.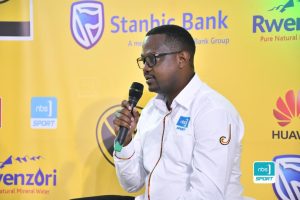 "Our investment is in promoting across our platforms and broadcasting the marathon live on NBS Sport so that we reach the millions of Ugandans and other people out there because this is something we believe in."
With the Marathon launched today by Kampala Capital city executive director Dorothy Kisaka, and the kit officially launched, the tickets are already on sale.
MTN MARATHON 2019 RESULTS
Prize winners Men – 42.2km
1. Phillip Kiplimo 02:13:56
2.Fres Musobo 02:15:23
3.Anthony Ayeko 02:15:23
4.Soyekwo Kibet 02:16:17
5.Francis Musani 02:18:03
6.Daniel Rotich 02:18:38
7.Patrick Kiptalah 02:20:29
8.Habte Guta Bira 02:20:49
9.Alfred kiptoyek 2:20:55
10.Allan Andiema 02:52:21
Prize winners Women – 42.2KM
1.Nyakisi Adero 02:41:11
2.Vanis Chemutai 02:45:42
3.Kadist Fiseha Tedla 02:47:01
4.Lydia Wafula 02:49:08
5.Priscilla Chelangat 02:49:45
6.Migada Caroline 02:50:55
7.Omari Doris 02:52:59
8.Rotich Lydia Chepteling 02:54:15
9.Debesay Yohannes Hibret 02:55:43
10.Eileen Jepngetich Korir 02:57:10
Half marathon women -21.1KM
1.Juliet Chekwel 01:13:08
2.Doreen Chemutai 01:13:09
3.Dorcus Ajok 01:14:13
4.Doreen Chesang 01:14:21
5.Annet Chelangat 01:14:23
Half marathon men – 21.1KM
1.Jacob Kiplimo 01:01:53
2.Felix Chemonges 01:02:57
3.Kibet Titus 01:03:21
4.Moses Kibet 01:03:37
5.Isaac Kibet 01:04:34
Men's 10KM race
1.Denis Cherotich 00.29.59
2.Bushenbich Mande 00.30.05
3.Phillip Kibyeko 00.30.12
4.Kwemoi Salim 00.30.14
5.Ezekiel Mutai 00.30.15