The two-day Buffaloes 7s has climaxed the Nile Special 7s over the weekend with Jinja Hippos emerging winners of the overall title after seven circuits played across different parts of the country.
The Saidi Atibu coached team secured the title after seeing off Heathens 12-05 in the main cup semi final of the Buffaloes 7s, thanks to tries from Tawfki Bagalana and Denis Etwau.
However in the final, the Hippos lost to Pirates 07-00 in a closely contested game with a first half try by Timothy Odong making the difference, but with their tally of 128 points, 9 ahead of second place finishers Heathens, victory was confirmed for the side from Jinja.
Hippos captain Aziz Bagalana was elated following the win, "This is just the beginning and we are coming for more, our candle has been lit now."
"We have been consistent because we kept learning from our mistakes. We have been playing as a family and we do not have stars on our team and we trust all our players to deliver on the team," stated Bagalana.
He attributes the win to the late club coach Robert Seguya whom he says is responsible for nurturing and grooming the young talents at the club during his tenure.
Teammate Maxwell Ebonga, one of the experienced players on the team, acknowledges the role played by the coaches, players and the club management towards winning the title.
Conrad Wanyama, vice-captain of Pirates was impressed with his side's display in the last circuit, "The performance for us is a big one since it is a story of our journey, we have had ups and downs with some players getting injured. It's a redemption circuit and returning back from injury means a lot to me," Wanyama noted.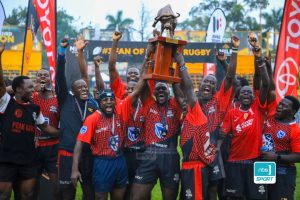 Uganda rugby Union technical director Ramsey Olinga recaps the sevens campaign, "It has been very exciting since we began with the Wakiso 7s held in August, then we went to Entebbe, Arua, came back to Rujumba at King's park, then went to Fort Portal, Jinja and we have finished with Kyadondo. It's exciting for the players, fans and sponsors since they have had value for their money."
Olinga says focus now shifts to the women's Pool B Rugby Africa cup before the Uganda Cup that starts in November.
Heathens finished third after overcoming arch rivals KOBs 10-05 in the third-place match as Buffaloes' Aaron Tukei was named overall most valuable player with the host side finishing fifth with a 12-05 win against Impis.
This is the first national title that the Jinja Hippos have won since their inception in 2013.