The 15th edition of the Rwabushenyi Memorial Chess Championship got underway on Thursday with over 120 participants taking part.
Including Afghanistan, South Sudan, Kenya, Tanzania and Somalia, the edition has six countries participate. East Africa's No.1 seed International Master Arthur Ssegwanyi and the region's No.3 seed Fide Master Harold Wanyama headline it.
The two are the record winners of the event both with 4 titles, but the last time any of them won the championship was in 2019. Wanyama whose last triumph came in 2015 fancies his chances.
"I have been inactive in Open tournaments, but I feel like I'm on form because I have been playing really well in the League, and I also did pretty well at the Olympiads.
"Of course with the South Sudanese who have a very strong team of five players and Arthur Ssegwanyi,  it's going to be a hard one, but I fancy my chances to win it. "
Majur Manyang, South Sudan's top seed shares the same sentiments, but backs Ssegwanyi as well.
"The strong players in this tournament are IM Ssegwanyi and FM Wanyama. They are obviously everyone's pick. I think it will be between them, but I think I can cause an upset. Because if it's not one of them, then it can be me. "
The opening day of the event witnessed no major upsets. Elvis Mugisha who finished fifth at the African Individual Chess Championships in Zambia this past September, was among the day's winners.
The Rwabushenyi Memorial which is known for attracting big names, remains one of the most respected events on the Ugandan chess calendar.
This time though, some of the big names including International Master Elijah Emojong, Fide Master Patrick Kawuma and last year's winner Fide Master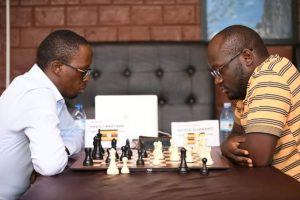 Haruna Nsubuga, miss out.