A busy Saturday morning at the Panamera sports grounds. Hundreds of kids aged under 10, 12 and 14 from seven academies including hosts Joe Kigozi academy, Rays of Grace, Excel academy, Proline, Aliguma, Teletubies and Discovery are exhibiting their skills in the inaugural JKA Juniors tournament.
In the company of parents and some key figures in Ugandan football like legend Jackson Mayanja and Mujib Kasule, the kids fight for every ball with passion, to the entertainment of the watching crowd.
With bragging rights and tangible rewards like trophies and medals waiting, it is an atmosphere of competition, and that is what football is about. Coaches bellow instructions as the kids execute.
In the under 10 category, Rays of Grace pushed their way to the final where they beat Teletubbies 4:3 on penalties, The hosts JKA edge Excel 1-0 for the under 12 title while the Under 14 category was still scooped by Rays of Grace after a 2-0 win over the hosts.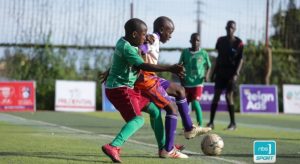 "We as a country have great talent and through such initiatives we can be sure that the kids will have a chance. I liked what I saw." Said under 20 national team coach Jackson Mayanja who was the technical observer for the competition.
KCCA FC vice chairman Aggrey Ashaba was there to see for him self, with his club contemplating forming a juniors side, this is exactly what they envision.
"The big teams benefit from these academies and tournaments because they expose future talents sooner. By the time the big teams get them they have already got the basics football needs." Ashaba said.
Aliguma foundation's founder Ritah Aliguma who donated football equipment like balls, to the JKA academy commends the academy for its continued support to slum soccer.
"JKA has been supportive of slum soccer from the beginning. Being part of these tournaments is in line with our agenda at Aliguma foundation to get children into activities that will benefit them and distract them from bad practices in their communities'
Joe Kigozi academy founder Joseph Kigozi says this has always been the dream for him.
"My love for soccer started when I was a child but I did not follow passion to play the game because of my job demands. This is why I created an academy where kids with the passion have a chance to actually continue and play the game, creating opportunities I did not get." Said Joe.
This Inaugural competition that was live on NBS Sport attracted big figures like gospel Musician Levixone and private partners like Omo, Prudential among others and is expected to be an annual competition.
With such initiatives, our children are guaranteed the opportunity to play and indeed the future is bright.