I have struggled all week to identify what specific occurrence can or will halt Arsenal's match towards their first title in almost 2 decades.
Will Pep Guardiola's Avengers assemble to dismantle Mikel Arteta's well-oiled machine? Will the Professional Game Match Officials Limited (PGMOL) re-install Lee Mason to referee all of Arsenal's remaining Premier League fixtures? Will Manchester United's treble winning "autoboots" be summoned seeing that the current "decepticons" have miserably failed in their task as witnessed 7 days ago with their 7-goal thumping at Anfield? Will fresh injuries to Gabriel Jesus and Thomas Partey perhaps do the trick? We could think of all sorts of scenarios, but none might apply except the Celebration Police. The FA's impending charge on the Gunners could well be the straw that breaks the camel's back. This is not to say that Arsenal's title charge is about to implode but a sequence of events could well trigger a collapse at the homestretch.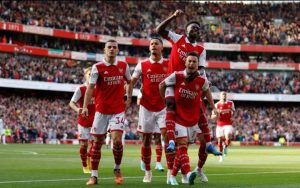 Charging a team for "over celebrating" is equivalent to Counsel Male Mabirizi being jailed for "over filing" cases with the Judiciary. Where is the justice if injustice is not reported, in this case where is the fun if a team is not allowed to show emotions of joy, relief and triumph?
Arsenal have faced four key moments in their season and to stand tall 5 points clear with two thirds of the season covered, shows a team that is just not ready to die. The first challenge was the loss at Old Trafford at the home of their archenemies, a fixture that has not brought much joy for them in recent times. Unbeaten after 6 games at that point, many thought Arsenal would then crumble with the initiative handed to Man Utd who had now won 5 in a row. That did not happen as Arsenal went 13 games without defeat.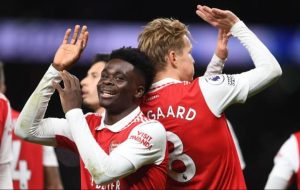 The second hurdle was to come a few weeks later as they faced a double-edged sword playing Tottenham Hotspurs and Liverpool at home, on consecutive weekends. Many pundits believed this would be the acid test, but again the youngest Premier League team comfortably slayed both rivals, scoring 6 goals in the process.
The third test was at Stamford Bridge. With Manchester City having taken a 1-point lead at the top of the Premier League table for the first time in almost 3 months, the onus was on Arteta's boys to show their mental strength and bounce back at the home of their rivals with less than two weeks to the start of the World Cup. Bounce back they did, winning the London derby by a single goal and prompting Arteta for the very first time to declare his young side as challengers to Pep's Galacticos.
The fourth and decisive test for me was to come at the end of January, into February. An acceptable FA Cup loss at the Etihad Stadium was followed by a league loss at Everton, a controversial home draw against Brentford and another defeat to their closest challengers Manchester City at home. Many believed the turning point of the season had finally arrived and with the lead cut to 2points, the pressure was finally going to cause a collapse, one we are still waiting for.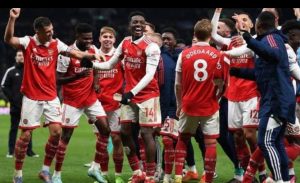 Last week's celebrations at the Emirates Stadium following substitute Reiss Nelson's last-minute strike to complete the comeback 3-2 win from 0-2 against Bournemouth, was not a celebration of a team that had won the title, but rather one of a team that had just left everything on the pitch to win a game that many had thought would be a walk in the park for them. It was more relief at not dropping points having seen their 5-point lead cut to 2 points a few hours earlier. The result was just another statement and reminder to the doubters that they are here to stay.
Enter the Premier League and the PGMOL. The latter is a company, not just an acronym for those learning the alphabet and we all know companies are created to manage transactions of some sort. The Premier League's interest in investigating the "unauthorised entry of players and technical staff" onto the pitch to celebrate a moment almost akin to the Aguero title winning moment against QPR to hand Manchester City their first ever Premier League trophy, left a sour taste in the mouth. Should the game now rid itself of emotions as already seen with the introduction of VAR when postponing celebrations as we wait for a random group in front of monitor screens to decide who should be happy and who should not? Will this investigation lead to the Arsenal players and manager to start openly questioning if there is a sinister motive or witch hunt against them?
Arteta has so far kept his own counsel, wisely avoiding a Rafa Benitez or Kevin Keegan rant that led to an implosion of their title hopes against a willy Sir. Alex Ferguson. My random take is someone at St. George Park is not keen to see a trophy parade in London, perhaps in fear of paralyzing business in the CBD because of looters, as presumed in our third world African countries. The Public Order Management Act might be Arsenal's saving grace.
Twitter – @JonahByakutaaga