By Martin Kaddu
Newly crowned national netball league champions Prisons netball club have left for Kenya ahead of the 2023 East Africa Netball championship that throws off this Saturday, May 13th at Nyayo stadium in Nairobi.
The contingent that includes 14 players and seven officials was flagged off by Jimmy Anguzu, the OC Sports on behalf of the Commissioner General Dr. Johnson Byabashaija. "Anguzu congratulated the Prison queens upon the league triumph before asking them to aim for the best in the regional championship.
"Qualifying for the regional tournament is a great milestone because the games also have a standard entry mark that the girls worked hard to beat," noted Anguzu, who urged the girls to maintain maximum discipline in Kenya.
"I thank the Commissioner General of Prisons for the support to sports especially netball and the support towards preparations for this tournament in particular," he added.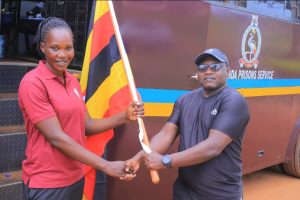 The regional competition will draw clubs from Uganda, hosts Kenya, Tanzania, Rwanda, Zambia and South Sudan. Uganda will be represented by three female and two male clubs after league runners up KCCA netball club withdrew.
Record winners National Insurance Corporation (NIC) and Makindye Weyonje will play for women while WOB and Kampala University are the men's teams from Uganda.
According to Rosette Kaala, a Uganda netball federation (UNF) Executive member, this one-week tournament is a great precursor for Uganda as a nation prior to the 2023 Netball World Cup in Cape Town city, South Africa.
Squad
Defenders: Lillian Ajio, Sylivia Nanyonga, Stella Nanfuka, Mumena Tauisi Issa and Viola Asingo.
Mid-Court: Juliet Nakafeero, Janet Adongo, Joyce Nakibuule, Malisera Akello, Flavia Donia.
Shooters: Dorothy Tabia, Hadijah Nakabuye, Christine Numlumba, Sandera Namutebi
Officials
Florence Amono, ASP (Officer in Charge -Netball), Nyongesa Imelda, Rtd PO II (Technical Director), Costant Ssebagala (Head Coach), Rwegyema Beatrice (Team Doctor), Isma Wambi (Team Driver), Ashaba John Bosco (Head Mechanics) and Fred Akena (Media Officer).