The Uganda U16 team has been pitted in group B of the FIBA Zone 5 qualifiers that will be held in Rwanda.
The Zone 5 game is set to kick off on the 28th to the 30th of June at LDK Gymnasium, Kigali.
 
Uganda's Under-16 National Basketball Team has today commenced their journey to Rwanda for the FIBA Africa U16 Zone 5 Qualifiers.
 
Uganda will be competing against Rwanda, Burundi, and Tanzania in the tournament in Group B.
FUBA Vice President Hudson Ssegamwenge expressed confidence in the team, stating, "We have full faith that the boys have been well-prepared through numerous practice sessions and are ready to overcome this qualifying challenge."
The tournament will serve as a qualifying event for the FIBA U16 Afrobasket championships, which are slated to occur from August 13-23, 2023, in Tunisia.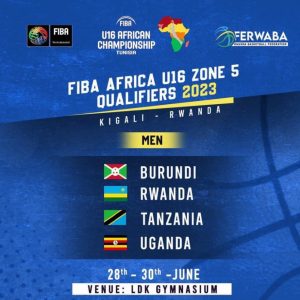 The Team:
Athletes – Bono Mujuni, Tindyebwa Harry, Aine Christian, Munashe Isaac, Obua Terrence, Najimal Latim, Mwesigwa Victor, Mugisha Amos, Ladho Emmanuel, Mayen Gany Madul, Makmot Aron, Owiny Zuri, Kayongo Newton
Coaching Staff – Michael Sager (Head Coach), Okwera Moses (Assistant Coach), Juuko Daniels (Assistant Coach)