By Martin Kaddu
Boxing remains one of the most popular sports in Uganda albeit the boxers not being some of the highest-paid athletes in the country. There is nothing like a high-level boxing match featuring two talented stars with technical skills and power. And if it is not for fast-paced, toughness and determination tailored victories is what one is assured of in the boxing champions league organized by Uganda boxing federation.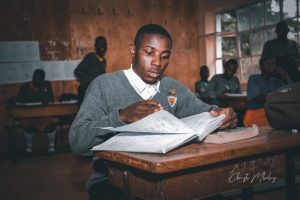 Ahead of week five of the platinum competition this Saturday, it is Kassim Mulungi -a student at City High school-Kampala taking on national team boxer Jonah Kyobe in five rounds of feather weight action. Mulungi was early this year voted the best boxer during the National Open championship that attracted over 400 boxers while Kyobe was part of the national team at the recent Commonwealth Games in Birmingham. He was also at the African boxing championship in Maputo where he won a bronze medal.
JUGGLING BOXING WITH STUDIES
It has been a while since Boxing was banned as a school sport in Uganda but that has not stopped students from taking part in the sport alongside pursuing education. If you bump into Kassim Mulungi at school, it is hard to know that he is a well-known boxer. The senior 4 student who is a star in the eyes of his peers despite his down-to-earth personality derives his inspiration from the fact that most boxers are still looked at as school drop-outs. "You have to balance the time you give sports and studies to achieve both goals," he advises. Former boxer and current East Coast boxing club Coach Hassan Mulongo is adamant the two can be combined. "Time comes when you cannot do boxing and that is when studies are paramount," notes Mulongo. Mulungi's coach Shakira Mohammad believes that success can only be achieved with a certain degree of commitment coupled with several sacrifices. "Parents need to allow these talented students to follow their passion alongside studies," she observes. City High school's head teacher Mary Gorreth appreciates the discipline exhibited by the boxers at School whilst advising athletes to embrace education. "We have seen great people rise out of talents. We give students a chance to participate in sports of their choice," she says. Many current boxers have embraced education alongside boxing and as a result, Uganda Boxing Federation President Moses Muhangi has on several occasions called out the government to lift the ban on boxing in schools. "Most boxers come from the ghetto and are underprivileged. Through boxing they can attain scholarships. The sport can only grow from schools also," he asserts. Mulungi is currently preparing for his upcoming fight against Kyobe on Saturday. "I know he is a good boxer but it is our time. I have a vision and I cannot spare anyone who stands in my way," he warns albeit making his debut in the Sting-energy drink sponsored competition. For Jonah, it will be an outing of lecturing the "young boy" on Saturday. The Uganda boxing federation (UBF) Champions League is broadcast live on NBS Sport.