The Stone City 7s in Jinja came to an exhilarating end with the Stanbic Black Pirates emerging as the winners of the first round. They secured victory by defeating Kobs in the finals with a score of 19 to 7, making for an intensely contested game, especially during the first half.
Throughout the tournament, the Stone City 7s witnessed an impressive display of talent from various teams. Many teams showcased their best performances and put in their utmost effort on the field. While the Jinja Hippos, the 2022 rugby 7s champions, hosted the event, they couldn't make it to the finals this time.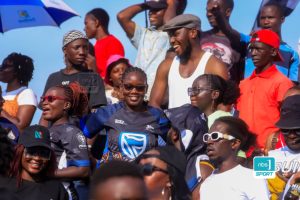 The Pirates showcased exceptional form throughout the circuit, securing wins in all their matches. Although they faced some challenges from Rhinos on the first day, they managed to overcome and defeat them. Rhinos took the lead in the first half of their encounter, but the Pirates made a remarkable comeback in the second half, securing their place in the ultimate competition.
Kobs finished as the runners-up in the tournament, following their defeat to the Pirates in the finals. The third-place went to Heathens, who managed to beat Impis, claiming the 4th position. These top teams displayed remarkable skill and sportsmanship during the competition.
In the women's category, Lady Cranes 1 emerged victorious, defeating Lady Cranes 2 to claim the title.
Timothy Kisiga of the Pirates received the MVP (Most Valuable Player) award of the Stone City 7s for his exceptional performance in Jinja.
The rugby action continues as the teams prepare to travel to Kitgum for the next round of the 7s circuit next Saturday. The Jinja circuit proved to be the fastest among the venues, with six more rounds yet to be played until the final one, which will return to Jinja where it all started. Pirates' outstanding performance secured them the title of champions in the first round.
The matches were exclusively broadcasted live on NBS Sport, allowing fans and supporters from around the world to witness the thrilling encounters and outstanding displays of rugby talent.