Uganda will not be part of the upcoming Quadball World Cup scheduled to take place from the 15th-16th of July, in Virginia, USA.
The team's withdrawal from the global competition is down to failure to secure funds for what would've been thier first major tournament.
Uganda was slated to be represented by Elsa Quadball Club which was founded 2 years ago. Elsa Vice-captain Brian Ssekiziyivu says the withdrawal is a major setback but they hope to bounce back soon.
"We have been preparing for the World Cup for a while but unfortunately we can not make it to the competition due to failure to raise funds required to travel and maintain our stay in the USA. Ssekiziyivu told this website.
"The world cup was supposed to be a major step in polishing our skills as it was an opportunity to face the biggest nations in the sport but we will have to reorganise and wait for the next edition."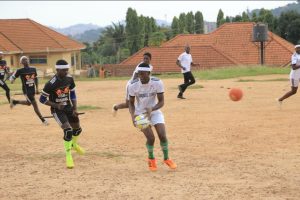 The next edition of the Quadball world cup will take place in 2025 and Uganda is hoping to have a chance to participate.
However, the sport is still young in the country with players and clubs are continously struggling to get their hands on proper training and playing equipment.
"Our next step is to write to the international body to help us with proper equipment that we can use during training and test matches. Continued Ssekiziyivu who plays as a chaser.
"This will go a long way to helping us prepare best for the next edition and hopefully we will have funds, then."
Uganda is the only Quadball playing nation in Africa and the World Cup was supposed to be key in helping spread the game to the rest of the continent.
Ssekiziyivu also notes that Quadball is a tool for youth to showcase their talents through a different sport as it has become increasingly hard for them to feature in more established sports.
"Quad ball is a massive opportunity for the youth in Uganda because it gives them a chance to show their talents as it has become difficult to engage in the already established sports."
Fifteen teams that are going to take part in the 2023 Quadball World Cup. They include hosts USA, Canada, German, Japan, France, India, Norway, Austria, Australia, Mexico, England, Brazil, African Nations and Hong Kong.
The United States of America is the defending champion of the competition after defeating Belgium in the 2018 final.