The president of the Spanish Football Federation is facing allegations of "sexual violence" after his forceful kiss on midfielder Jenni Hermoso during Spain's World Cup celebrations. Luis Rubiales, who pulled Hermoso towards him for a kiss during Sunday's medal presentation, is drawing criticism for repeatedly behaving inappropriately following Spain's 1-0 victory over England.
Rubiales also kissed another player without invitation and made an inappropriate gesture while celebrating. In the changing room, he suggested taking the team to Ibiza and joked about marrying Hermoso. Rubiales dismissed criticism of his kiss with Hermoso during the medal ceremony as a "minor display of affection," but Hermoso expressed discomfort with it.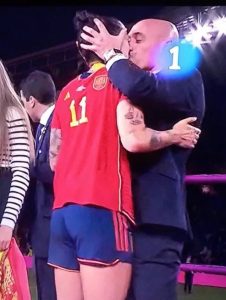 Rubiales also kissed Lucy Bronze, an England player, on the cheek on the podium. Irene Montero, Spain's Minister of Equality, condemned Rubiales' actions, stating that we should not accept non-consensual kissing as something that just "happens" and that it constitutes a form of sexual violence.
Footage also shows Rubiales kissing Olga Carmona, who scored the decisive goal against England. Earlier, while watching the match in the stands, Rubiales celebrated by making an inappropriate gesture.
Hermoso later downplayed the kiss in a written statement, emphasizing her excellent relationship with Rubiales and describing the kiss as a spontaneous, mutual expression of affection and gratitude due to the joy of winning the World Cup. Rubiales responded to critics by dismissing them as "idiots."
Spain won the World Cup despite internal issues within the squad, including concerns about coach Jorge Vilda's professionalism. Fifteen national team players had raised concerns, but Rubiales backed Vilda, who ultimately brought some of the dissenting players back into the squad for the World Cup.
Rubiales suggested that Spain's victory vindicated his decision to support Vilda and emphasized the importance of letting people do their jobs without interference."