The anticipation among cricket lovers in Uganda continues to grow as they prepare to experience the ICC Men's World Cup Trophy Tour.
In a conversation with Musali Denis, the Communications Manager for Cricket Uganda, he confirmed to NBS Sport that the Uganda Cricket Association, in collaboration with Uganda Tourism Board, Motor Care, Bar Aviation, and Fireworks Advertising, is all set to host the ICC Men's World Cup trophy on Saturday, August 26, 2023. During its visit, the trophy is expected to tour various parts of Kampala and Jinja.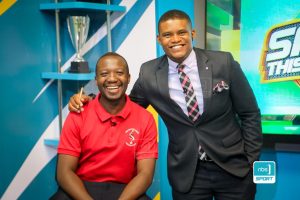 Denis explained, "The ICC World Cup Trophy is coming to Uganda as one of the African countries chosen to host it. The trophy will arrive this Saturday, and on Sunday, the public will have a chance for a close-up view at Kyambogo cricket grounds, providing a perfect photo opportunity."
Traditionally, in cricket, the ICC Men's Cricket World Cup trophy is primarily handled by the players and officials directly involved in the tournament, including players, coaching staff, support staff, and tournament officials.
Although fans and spectators won't have the opportunity to physically touch the trophy during the event, they will have the chance to see it on display at designated venues. The trophy is typically showcased for fans to take photographs with and admire, but it's not customary for individuals who haven't played a role in the tournament to handle it.
However, there is a notable exception. President Yoweri Museveni has been granted the unique privilege of being the only one to touch the trophy during its stay in the country.
Despite Uganda not being a contender in the upcoming cricket World Cup, the country's enthusiasm for the sport is evident, with cricket thriving both locally and internationally. This remarkable journey reflects Uganda's remarkable progress in the cricket arena, with its impact resonating across cultural and geographical boundaries.
The ICC's objective for this tour is to showcase the rich traditional and cultural heritage of the African continent. Following its arrival on Saturday, the trophy will be delivered to the India High Commission. On Sunday, August 27, 2023, it will make its way to the State House in Entebbe, followed by the highly anticipated cricket festival, where the trophy will be on public display.
The cricket festival promises a variety of activities, including a replica of the World Cup tournaments, entertainment, bouncing castles, and a general gathering to celebrate the love of cricket in Uganda.
The trophy will commence its tour in Jinja on Monday, August 28, 2023, in collaboration with the Uganda Tourism Board and Bar Aviation, culminating the following day at the Uganda Parliament.