In an exciting turn of events, the prestigious ICC World Cup trophy made a special visit this morning to the Next Media Park, with a particular stop at the NBS Sport Studios hosted by the dynamic duo, Andrew Kabuura and Brian Tuuka from NBS Sport This Morning.
Traditionally, in cricket, this magnificent trophy is exclusively held by the players and officials directly involved in the tournament and  on this occasion, the staff were given opportunity for a memorable photo moment beside the trophy . The General Manager of NBS Sport, Joe Kigozi, and the Group CEO, Kin Kariisa, later had their chance to pose with this highly coveted symbol of cricket excellence.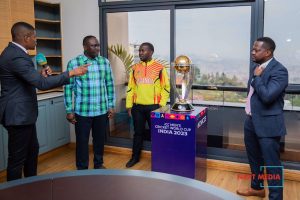 During an interview with Andrew Kabuura, Mr. Joe Kigozi emphasized the significance of this moment for Uganda's sports and tourism. He expressed his belief that having the ICC World Trophy in Uganda would positively impact the country's global image, erasing any negative stereotypes. He praised NBS Sport's commitment to prioritizing Ugandan sports, stating that receiving a trophy of this magnitude truly reflected their values as NBS Sport, a true champion of Ugandan sports.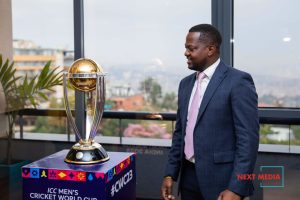 Kin Kariisa, the Group CEO, also had a moment with the trophy and expressed his gratitude to the organizers for bringing this monumental occasion to Uganda. He acknowledged its profound impact on young cricketers and its potential to boost tourism in the country. Kin Kariisa reassured the audience that through NBS Sport and Next Media, they would continue their unwavering support for all sports activities, proudly championing Ugandan sports.
The ICC cricket world trophy embarked on its Ugandan tour on August 26th, starting with a visit to the Indian High Commission. It continues its journey with a vibrant festival of Cricket at Kyambogo Cricket Grounds and today is set to make a memorable stop in Jinja.