The Federation of Uganda Football Association (FUFA) announced today a new partnership with the online betting company, betPawa, which will sponsor three of their football programs. The unveiling took place at the Fairway Hotel, and the partnership is valued at Ushs 1.18 billion ($320,000). The main objectives of this collaboration are to support local talent development, enhance the fan experience, and elevate the football standards across Uganda.
Ntoudi Mouyelo, Managing Director of Mchezo Africa, the owner of betPawa, expressed his enthusiasm for the partnership, emphasizing their commitment to boost Ugandan football. He stated, "We are excited to join forces with FUFA to accelerate the growth of Ugandan football. This partnership is a significant investment in our local players and teams, and together, we can improve the experience for fans and players alike. We are creating more opportunities for everyone involved in Ugandan football."
This partnership signifies the official launch of three sponsored FUFA properties for the 23/24 season: FUFA Drum, the betPawa BIG League, and the betPawa Futsal League. FUFA President, Moses Hassim Magogo, echoed these sentiments, describing the partnership as a pivotal moment for Ugandan football, emphasizing its significance beyond financial support and its role in advancing the sport's future.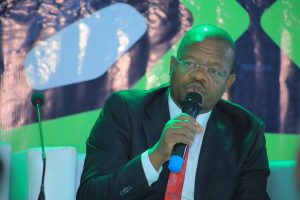 The partnership has several key goals, including nurturing and developing careers within Ugandan football, engaging and expanding fan bases nationwide, and motivating players through the Locker Room Bonus. Mouyelo explained, "Under this partnership, we are introducing the Locker Room Bonus, which provides cash rewards to players on the matchday squad if their team wins. We are allocating 25% of the partnership's value to this initiative."
This collaboration represents a unique blend of sports, business, and community development. By combining their strengths, betPawa and FUFA aim to leave a lasting mark on Ugandan football, with the ultimate goal of establishing Uganda as a footballing powerhouse in Africa.
In the Futsal competition, benefits will include awards for MVP of the season, best goalkeeper, coach, player of the season, most assists, and young player of the season. Similar award categories, supported by betPawa, will be presented in the Big League, along with a token for the league's winning team, one of the four clubs earning promotion to the country's top-tier league at the end of each season.