Airtel, a giant  telecom company,   teed off an exciting day of golf as they hosted their inaugural Airtel Golf Games for September at the Uganda Golf Club Kitante Hill. The event, which took place yesterday evening , attracted golfers from various corners of Kampala
The overall winner of the Airtel Golf Games was none other than Engineer John Nasasira, the former Works Minister, who displayed remarkable skill and accumulated an impressive 42 points during the competition.
In the senior category, Fred Kasumba emerged victorious with 39 points, showcasing a remarkable improvement of 2 points from the previous week. The Ladies' Group B saw Juma Shamim clinch the winner's title with 20 points, while Tindebwa Neema secured the runner-up position with 19 points.
Monica Ntege triumphed in the Ladies' Group A, also with 20 points, while Maxi Byenkya closely followed with 20 points, deciding the runner-up position through a Countback (CB) mechanism.
David Nziza claimed victory in the Men's Group C with 23 points, and Paul Karemera secured the runner-up spot with 22 points, also decided by Countback.
General Ivan Koreta was the Men's Group B winner with 22 points, with Okello Ocero taking the runner-up position with 21 points.
In the Men's Group A category, Antony Agaba secured the winner's title with 19 points, determined through Countback, while Elvis Manzi was the runner-up, also with 19 points.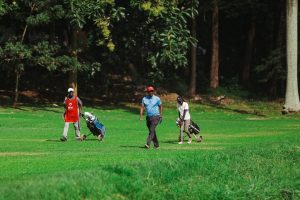 During the Airtel Golf Clubnite, Henry Njoroge, Airtel's Marketing Director, encouraged golfers to consider investing in Uganda through the #AirtelIPO initiative. Mr. Njoroge emphasized that Airtel is a highly profitable business and open to Ugandans who wish to become shareholders.
"Why invest? We are a business that grows every year with a 95% dividend payout policy, and we have been the fastest-growing network in the country for the last 5 years. We invite you to participate in the #AirtelIPO by dialing *185*85#," Mr. Njoroge stated.
Adding to the excitement, Manoj Menon, the Managing Director of FLY Dubai, announced plans to select ten competitors who will win a return ticket to Dubai in November, offering golf enthusiasts an exciting incentive to continue participating in Airtel's golf events.