The United Nations Development Programme (UNDP) and the Joshua Cheptegei Development Foundation (JOCDF) have officially unveiled the UNDP Elgon Half Marathon, a sports tourism endeavor aimed at raising the global profile of Uganda's Elgon region as a world-class tourism destination. This marathon not only seeks to promote sports but also amplify the crucial need for climate action and biodiversity conservation within the Elgon region, fostering inclusive community participation in the tourism sector while diversifying Uganda's tourism offerings.
The UNDP Elgon Half Marathon, featuring Joshua Cheptegei, the reigning Olympic Champion, world record-holder for the 5,000m and 10,000m events, and three-time 10,000m World Champion, will take place in the picturesque city of Mbale on Saturday, October 28, 2023. The event will comprise three running categories: 5km, 10km, and the challenging 21km race, all taking runners through the stunning foothills of Mount Elgon National Park.
Joshua Cheptegei, in partnership with UNDP, is at the forefront of this initiative, advocating for climate action and biodiversity conservation while ensuring that tourism activities contribute to inclusive and sustainable development within the Elgon region. The marathon will not only feature Joshua Cheptegei but also his teammates and training partners, including Victor Kiplangat, Stephen Kissa, Peruth Chemutai, Halima Nakaayi, Winnie Nanyondo, and several other elite athletes.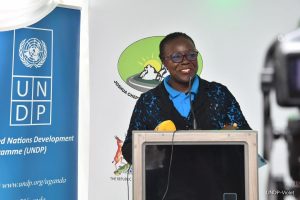 Elsie Attafuah, the Resident Representative of UNDP, highlighted the potential of the marathon in accelerating tourism growth, stating, "#UNDPElgonHalfMarathon allows us to harness Joshua Cheptegei's global brand to intensify discussions on climate action and the conservation of the Elgon region while creating new opportunities for youth and women. The tourism potential in the Elgon region is immense, and we share the responsibility to unlock its full potential."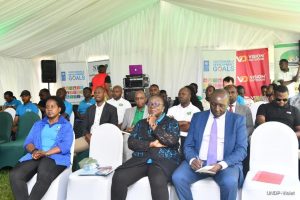 Joshua Cheptegei expressed his joy for spearheading a campaign that addresses critical climate issues, saying, "This marathon will be a race that tackles various challenges facing our planet Earth. Together, we can champion sustainability and advocate for a greener future for generations to come. I'm proud to stand here today not only as a world champion but as an ambassador for youth empowerment, sports tourism, and the climate action agenda."
Joe Kigozi, the Deputy Group CEO of Next Media, emphasized the significance of this event for Uganda and its sports community. He praised Joshua Cheptegei for instilling hope in many Ugandans and highlighted the marathon as an annual event that will promote both sports and environmental conservation.
NBS Sport which is the media partner  of the marathon through the GM, Joe Kigozi have pledged  media coverage for it given the fact that is aligns with its core values, CHAMPIONING UGANDAN SPORT.
"This marks an extraordinary moment, not only for Ugandan sports but for the entire nation of Uganda. I can't recall witnessing a marathon organized by such a legendary figure before. At Next Media, our flagship brand NBS is dedicated to championing climate action. We firmly believe in the transformative power of preserving our environment. Our brand, NBS Sport, has a mission to promote Ugandan sports.
The underlying message is crystal clear, and there's an unspoken theme here: Joshua has inspired hope in countless Ugandans. I'm confident that this will become an annual marathon, and I firmly believe that, with the backing of Next Media, every Ugandan will come to understand the profound purpose behind our participation in this event".
This initiative has garnered significant support from various government entities and private sector companies, including the Ministry of Tourism, Wildlife and Antiquities, Uganda Tourism Board, Uganda Wildlife Authority, National Forestry Authority, Vision Group, Next Media, MTN, and TotalEnergies. Their collective efforts are set to make the UNDP Elgon Half Marathon a powerful catalyst for change, combining sports and sustainability to drive positive transformation in the Elgon region and beyond.