Uganda Rugby Sevens National team secures spots in both the Olympic Games playoff round and the World Rugby Sevens Challenger Series.
Uganda's Rugby Sevens team had a strong start in the Africa Rugby tournament's first day, winning against Algeria and Burkina Faso. Unfortunately, they faced a setback when they lost to the host team, Zimbabwe, in the group stage. However, this loss didn't deter them from advancing out of the group stage.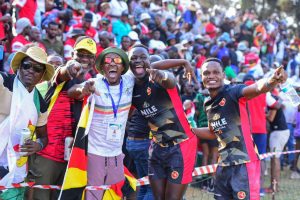 On the second day, Uganda faced off against Zambia and emerged victorious with a score of 29-15. Their hopes to defend the Africa men's 7s title were dashed in the semifinals as they fell to South Africa, with a final score of 14-26.
After the game against South Africa, Coach Tolbert Onyango expressed his thoughts, saying, "There was a moment when we thought we had control of the game, but a crucial try turned the tide, and we couldn't recover."
Uganda then played against Zimbabwe in the 3rd place playoffs, securing a bronze medal with a 24-12 victory. This achievement also earned them slots in both the World Rugby Sevens Challenger Series and the Olympic Games Repechage, scheduled for 2024.
Kenya emerged as the champions of the 2023 Africa Rugby Sevens, securing the gold medal and a ticket to the 2024 Olympic Games in Paris. South Africa claimed the silver medal.