KCCA FC supporters experienced profound disappointment when one of their longtime favorite players made a surprising move to their rivals, Vipers SC, on the transfer deadline day. Social media was flooded with mixed emotions; some accused him of betrayal, while others wished him well in his career. However, one question lingered: what prompted the move and left fans feeling betrayed?
In an interview on NBS Sport two weeks ago, Anisha Muhoozi, the CEO of KCCA FC, acknowledged that Allan Okello held a special place in the club's heart and was their darling. However, she didn't disclose whether there was a possibility for the player to return to the club.
Recently, Allan Okello bid farewell to the club and its fans in an emotional message after concluding his loan spell. His contract with Algeria's AC Paradou was mutually terminated, despite joining the Algerian club in January 2020 on a four-year deal from KCCA FC. Initially, his contract was set to expire on January 21, 2024. This happened just two weeks before the Uganda Premier League transfer window closed.
Rumors had been circulating that Allan Okello was considering surgery to address a recurring knee injury that had hindered his performance. However, credible sources dismissed these rumors, stating that the injury was not as severe as portrayed in the media, and the player was ready to play.
As the transfer window drew to a close, Allan Okello remained without a club, and no team had shown interest in his services, including KCCA FC. Lawrence Mulindwa, the Vipers SC patron, closely monitored the player's situation and wasted no time in making the shocking signing on the deadline day. Nevertheless, credible sources within KCCA suggested that discussions with the player began only when they realized he was on the verge of joining Vipers SC, but by then, it was too late for the player to reconsider.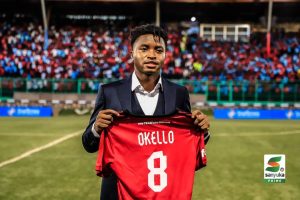 When asked about this unexpected move, Allan Okello emphasized that he had given his all to KCCA FC and needed a new opportunity where he could participate in continental football. In the Uganda Premier League, Vipers SC was the club he sought refuge in.
It's also possible that KCCA FC had reservations about the severity of his injury and didn't want to take any risks, which may have influenced their decision not to re-sign him.