With the eagerly awaited decision from the CAF Executive Committee regarding the hosts for the AFCON tournaments in 2025 and 2027 just around the corner, FUFA ExCom member Rogers Byamukama is confident about the prospect of East Africa hosting this prestigious competition.
In a notable show of unity, Kenya, Uganda, and Tanzania  presented a collaborative bid to host the 2027 AFCON tournament months ago. However ,their fate hangs in the balance as they await the decision, scheduled to be unveiled today during the CAF Executive Committee meeting in Cairo, Egypt.
Appearing on NBS Sports morning show Premier Sport, Byamukama expressed his optimism about the possibility of East Africa hosting the prestigious AFCON tournaments in 2025 and 2027. He stated, "The three African nations are more than ready should they be given the rights to host the 2027 competition." Byamukama added, "When countries like Gabon were given the rights to host the tournament in 2017, most of their facilities were not 100% complete, but they managed to get them ready in time, so this should not be a hindrance to the Pamoja bid getting the rights."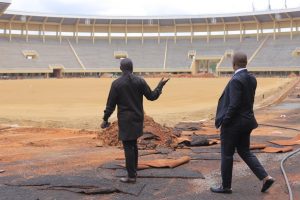 The East African consortium faces formidable competition from Senegal and Algeria. Should East Africa secure the hosting rights and successfully execute the tournament, it would mark a significant milestone for the region. Meanwhile, Algeria has withdrawn from the race to host the 2025 Africa Cup of Nations on the eve of the vote.
The vote by AFCON organisers CAF will resolve a much-delayed decision over who will replace Guinea as 2025 hosts. The country was stripped of the tournament in October last year due to concerns about infrastructure and facilities. Morocco is expected to be named as Guinea's replacement