The 11th week of the Uganda Boxing Champions' League, which took place at the Lugogo Indoor Stadium, was marked by unexpected drama, as is often the case in this sport. A video has emerged that has sent shockwaves through the Ugandan sports community, showing boxer Daphine Namitala, a 15-year-old, being subjected to physical punishment by her coach, Herbert Kalungi, following her loss in a boxing match against Irene Apiyo.
Coach Kalungi's use of corporal punishment as a disciplinary measure, a practice considered outdated in modern sports, raised serious concerns within the sports community. This prompted the police to detain him based on the video as evidence. However, Kampala Metropolitan deputy spokesperson Luke Owoyesigire revealed that the victim and her mother have since pleaded with detectives to refrain from further investigation and to release the coach immediately. It appears that Shakira's mother insists that the coach is instrumental in her daughter's ability to continue her education.
Following the release of the video at the beginning of the week, Moses Muhangi, the President of the Uganda Boxing Federation, expressed his concern in a tweet. He stated, "I have instructed our teams in Boxing Uganda to establish the facts of this unfortunate incident, and we shall work with the Police to get to the bottom of it." He emphasized that as a federation, they do not endorse corporal punishment.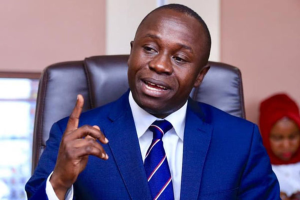 Minister Peter Ogwang also voiced deep concern over the situation and issued a statement shortly after the incident, reaffirming that such actions have no place in sports, particularly within schools. He firmly stated, "Corporal punishment is unlawful and punishable by law. Moreover, boxing as a sport remains prohibited in schools until the government establishes the necessary regulations." He called for a comprehensive investigation into the circumstances surrounding the altercation.
During an exclusive interview with NBS Sport on the Premier Sport show, renowned boxing coach Andrew Sebunya offered his perspective on the incident, emphasizing the need for greater transparency within sports clubs. Sebunya commented, "This unfortunate incident raises questions about what might be happening behind closed doors in other clubs. It tarnishes the reputation of Uganda's boxing community, and we must work together to ensure the safety and well-being of our athletes."
As investigations continue into the incident involving Daphine Namitala and her coach, it is evident that a thorough review of safety and disciplinary practices within Uganda's boxing community is warranted.