The 13-year-old golf prodigy, hailing from Mpanga Secondary School, delivered an impressive performance during the 2023 Uganda Junior Golf Open that took  place at the Uganda Golf Club in Kampala. The tournament serves as a prelude to the longstanding Uganda Open Championship, which has been a staple in the country's golfing calendar for over seven decades.
The tournament kicked off promptly at 7:00 am on Tuesday, promising a day of excitement and intense competition. The Juniors Open category featured 31 young golfers from eight different clubs across Uganda, all eager to showcase their skills and leave their mark on the golfing landscape.
Esther Kemigisa, a dedicated female golf student of the AFRIYEA Golf Academy at the Toro Club in Fort Portal Tourism City, proved herself to be a rising star in the sport. She teamed up with Lynette Anyango, Ariana Bholm, and Rachael Kagbugho, confidently teeing off at 9:30 am, ready to tackle the challenging course.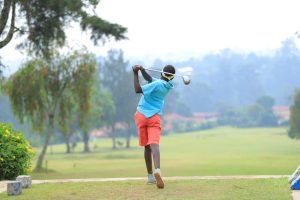 Throughout her round, Esther displayed remarkable skill and composure, navigating the Par 72 course with precision and determination. Her focused play and strategic shots resulted in an impressive score of 57 Net. In the highly competitive girls' category for ages 12-13, Esther's outstanding performance ranked second only to Ariana Bholm. This achievement earned Esther both a well-deserved medal and a trophy, solidifying her status as a budding star in junior golf.
Upon her victory, Esther expressed her excitement and gratitude, "I am thrilled with this win. It truly reflects my hard work and passion for golf. This victory will serve as a stepping stone for future tournaments, and I believe I can achieve even more in the years to come."
With her remarkable talent, dedication, and drive, Esther Kemigisa has undoubtedly captured the attention of Uganda's golfing community. As she continues to refine her skills and participate in more events, she is poised to become a formidable force in the world of golf. The Uganda Junior Open 2023 marks just the beginning of what promises to be an exceptional journey for this young, talented golfer.
Her success also underscores the valuable role that collaborative efforts from institutions like Toro Club and the AFRIYEA Golf Academy play in nurturing young talent and promoting the sport within the country. By providing opportunities for young golfers to develop their skills, nurture their passion, and compete at a high level, programs like these are pivotal in shaping the future of golf in Uganda.
It is worth acknowledging the efforts of the Toro Club Lady Captain, Peace Kabasweka, and the academy coaches, Happy Robert and Lillian Koowe, who ensured the young participants were well-prepared and in a safe environment for the tournament.