BY GRACE LINDSAY MBABAZI 
Grace Auma delivered a stellar performance en route to helping her team secure victories in two matches played on day one of the Rugby Africa Women's Cup in Tunisia.
She scored an impreseive 15 points on the first day, including a conversion.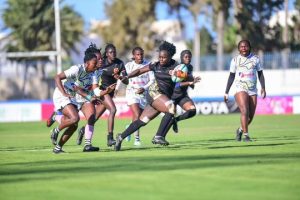 In the first game against the host nation Tunisia, the Lady Rugby Cranes emerged victorious 12-05 thanks to Auma crossing the try line twice and making one conversion.
In the day's final match against Zimbabwe, Auma added one try to the scoreboard, with Lydia Namabiro, Peace Lekuru, and Racheal Mufuwa also making valuable contributions.
Grace Nabaggala successfully converted, leading Uganda to a commanding 22-00 win over Zimbabwe.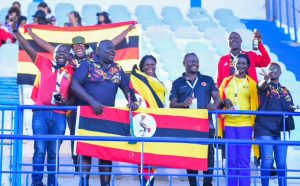 This was a largely satisfactory day for the Lady Cranes wih the two victories out of the three games played in the Rugby Africa Women's Sevens Cup in Tunisia leaving the team in a commanding postion.
Auma shared her thoughts on the team's success, saying; "Our relentless hard work, unwavering consistency, and the sheer aggression from everyone paid off. We desired to make history by making the Africa Cup final, which would make 2024 Paris Olympics within sight."
Uganda suffered only one defeat on day one, at the hands of defending champions South Africa.
The Lady Cranes lost 19-00.
Tomorrow, Uganda will play in the semi-final match against East African neighbourhs Kenya.