Alberto Antuna surprised sports lovers, particularly basketball fans in Uganda, by announcing his resignation on Monday  as the head coach of the Gazelles after serving for ten months. This unexpected decision has sent shockwaves through the sports community.
Antuna's departure comes as a surprise, given his successful tenure with the team. In a heartfelt farewell message shared on his official social media account, the Spanish coach stated, "It's time to say goodbye."
When questioned about whether the Federation of Uganda Basketball Association (FUBA) was aware of the coach's departure in advance, Nasser Sserunjogi, the Federation president, admitted that they had discussed the matter with Antuna. However, due to financial constraints, they couldn't retain a coach of his caliber on a permanent basis. Nasser stated, "As a federation, we lack the financial resources to keep a coach of his caliber long-term. After the Afrobasket Tournament in Rwanda, Antuna informed us of numerous offers from other countries, and we could only wish him the best."
Appearing on NBS Sport, Alberto Antuna expressed his gratitude to Ugandans for their support and pledged to return home someday. When asked about Jannon Otto's chances of continuing to play for the Gazelles, he emphasized their strong connection. Antuna and Otto had joined the Gazelles team together and had achieved significant success for the country. He mentioned, "Jannon Otto and I share a strong professional and personal bond. We joined the Gazelles as a team, and we made a significant impact. She loves the Gazelles and is ready to give her best whenever she represents the team. She has a deep appreciation for the team, the country, and the role the Gazelles played in her career, as it put her on the map in a way she wasn't before joining the Ugandan national female basketball team."
Jannon Otto won  the Topscorer and Small Forward awards at the concluded FIBA Women's Afrobasket in Kigali, Rwanda and also made it to the 2023 team of the year during the tournament in August.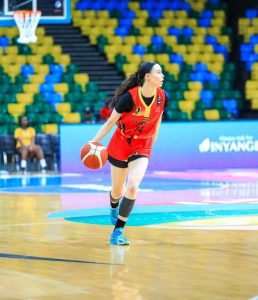 Alberto Antuna assumed the role of the Gazelles' head coach in January 2023. During his tenure, the team achieved a remarkable second-place finish in the FIBA Zone V Afrobasket 2023 qualifiers, narrowly losing the final to Egypt with a score of 64-74.
Despite entering the Afrobasket tournament as a wildcard entry, the Gazelles put on an impressive performance. They secured victories against renowned teams, including eleven-time African champions Senegal, as well as DR. Congo and Guinea. Their journey in the competition ended in the quarterfinals, where they were defeated by Rwanda.
Securing three wins in the Afrobasket and attaining a seventh-place finish marked a significant achievement for the Gazelles. FUBA has already initiated the search for a suitable successor to Alberto Antuna.