The JKL Lady Dolphins are the 2023 women's national basketball league champions following today's playoff final game five win over KIU Rangers.
The three-time winners were fast out of the blocks leading 18-11 at the end of the first quarter before stretching their lead to 38-23 at halftime.
The Mandy Juruni and Henry Malinga coached side held a 24-point lead at the end of the third period before they sealed a 68-50 win to the joy of the fans.
Led by center Hope Akello with a double double of 15 points and 11 rebounds, guard Ritah Imanishimwe and forward Brenda Ekone contributed 15 and 13 points respectively.
Enroute to the final, the Dolphins saw off UCU Lady Canons 3-0 in their best-of-five semifinal having overcome A1 Challenge 2-0 in the best-of-three quarterfinals.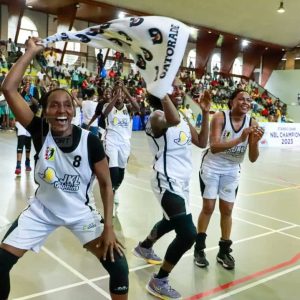 Despite playing in their first-ever playoff final, KIU Rangers who won game one with a buzzer beater by Perus Nyamwenge fell short against the experienced JKL Lady Dolphins.
Hope Akello was named best rebounder, best defensive player and playoffs MVP as teammate Brenda Ekone emerged top scorer. She attributes her success to her teammates, "Mainly teamwork on both on and off court,encouraging each other and it feels great being a champ again. The hardwork has finally paid off," Akello noted.
She believes KIU Rangers put up a commendable challenge, "KIU Rangers is a good team and we respect that fact so we had to play even harder and leave everything on the floor."
The all-star five included; Ninette Uwineza (KIU Rangers), Perus Nyamwenge(LIU Rangers), Mary Amaniyo(KIU Rangers), Sarah Ageno (JT Lady Jaguars) and Hope Akello (JKL Lady Dolphins)
The JKL Lady Dolphins won their first league title in 2018 before they won a second straight crown in 2019.