Have you ever treasured a moment due to a specific scenario or event? The 2023 edition of the Nyege Nyege Festival will be eternally remembered, thanks to Mr. Spidey stealing the show and captivating the revelers in Jinja.
Looking ahead, have you ever pondered the deep connection you have with a particular song? What's the story behind that song? Was it linked to meeting your soulmate or perhaps a dedication from them? This is the essence of getting attached to a specific moment, considering the events surrounding the song's release.
The 21st of December is quickly approaching, and the Fear of Missing Out (FOMO) for the Ali Campbell concert at Kololo Independence Grounds is gradually taking hold.
For millennials, have you ever questioned your parents about their affinity for UB40 songs? Why are they so attached to that Red Wine hit?
Regardless, let's delve into one of UB40's most beloved songs, exploring the years they were released and the memorable sporting events that took place in Uganda during those years.
'Red Red Wine,' released in 1983:
This song, released in 1983, stands out as a sought-after track by UB40 featuring Ali Campbell in Uganda. In the same year, Uganda celebrated a significant sports moment as its national football team, the Uganda Cranes, clinched victory in the CECAFA Cup, defeating Kenya 2-1 in the final held in Sudan.
'Reasons,' released in 2005:
A track from the 'Who You Fighting' album, 'Reasons,' holds significance in 2005. At the World Championships in Helsinki, Finland, Inzikuru ended Uganda's 33-year wait for an athletics world title by winning the inaugural women's 3000m steeplechase event, marking her as the first Ugandan woman to secure a gold medal at the World Championships in Athletics.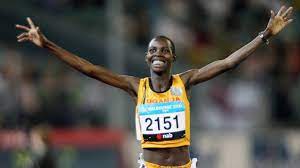 'Kingston Town,' released in 1993:
In 1993, Uganda's journey to the AFCON 94' edition hinged on a crucial win. After persistent attacks on the visitor's goal at Nakivubo War Memorial Stadium, the Cranes were awarded a penalty. Unfortunately, Ssemugabi, known for his powerful shot, missed it, altering the course of history.
'All I Want to Do,' released in 1986:
Although not directly tied to sports, this song holds significance in our day-to-day activities. In 1986, Uganda experienced a pivotal moment when the National Resistance Army (NRA), led by Yoweri Museveni, captured Kampala, marking the end of a prolonged period of political instability and conflict. This event led to the establishment of a new government, with Museveni assuming the presidency.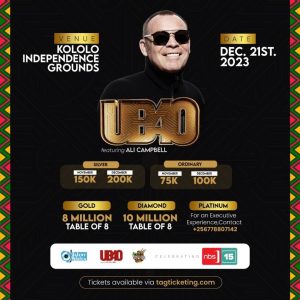 With that in mind, secure your Ali Campbell ft UB40 ticket and join NBS TV in wrapping up the year in style as they celebrate 15 years of existence