The Uganda Netball Women's National Team were in impressive form this past weekend as they finished 5th at the 2022 Fast5 Netball World Series in New Zealand.
The She Cranes, who were making their maiden appearance at the elite competition, won two of their five games.
After losing 32-49 to New Zealand in their opening game on Saturday, Uganda bounced back with a dominant 33-22 win over Jamaica. The first day ended with Uganda falling 38-35 to England.
On the second day, the girls stunned eventual winners Australia 32-30 in what is arguably the biggest victory in Ugandan netball history. However, they would eventually fall 22-27 to South Africa in their final game of the Series.
The performance of the She Cranes in New Zealand is a testament to how strong the team has become over the years.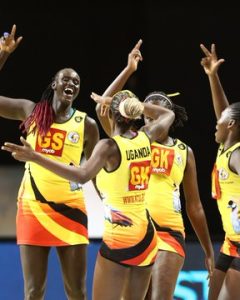 After decades of inactivity at the global stage, they finished 8th at the 2015 World Cup in Australia. Their next adventure would come at the 2018 Commonwealth Games in Gold Coast where they upset the odds to finish 6th.
In 2019, Uganda returned to the World Cup, taking part in the edition in Liverpool, UK where they finished 7th, a single-spot improvement as compared to 2015. A fifth-place finish at the 2022 Commonwealth Games in Birmingham would cement Uganda's status as one of the six top nations in World Netball and thus qualifying for their first FAST5 series.
Over the years, Uganda has become a fans' favorite at different global competitions including the Commonwealth Games, World Cup, and now the FAST5.
Before their win against Jamaica this past weekend, Uganda wowed the crowd with their moves as they jammed to the famous 'BABANDANA' song by Grenade Official. Along with the impressive performance on the court, moves like these have made the She Cranes a darling of the game.