In a thrilling opening game of the highly anticipated tournament, Mawokota emerged as the victors, stunning their opponents Busiro in a captivating showdown at Muteesa II Stadium in Wankulukuku on Saturday afternoon.
The atmosphere was electric as enthusiastic fans packed the stadium, eagerly anticipating the start of the tournament. With the presence of Buganda's esteemed figures, including the Katikkiro Owek. Charles Peter Mayiga and the revered Kabaka Sabassaja Ronald Muwenda Mutebi II, the stage was set for a spectacle.
Both teams exhibited skill, determination, and relentless passion right from the kick-off. Busiro made an early breakthrough, sending their fans into a frenzy. However, Mawokota swiftly retaliated, equalizing with a goal from the talented Abubaker Mayanja, much to the delight of their supporters.
As the game intensified, it was Ssentongo Akbar who stole the limelight with a remarkable long-range strike that left the Busiro goalkeeper stunned, putting Mawokota in the lead. The stadium erupted with jubilation as Mawokota's players celebrated their momentous achievement.
Despite Busiro's valiant efforts to stage a comeback, Mawokota's resilient defense stood firm, denying their opponents any further goals. In the end, Mawokota emerged victorious with a final score of 3-1, securing a memorable win in the opening match of the Airtel Masaza Cup 2023 edition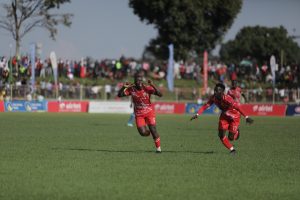 .
The stadium reverberated with cheers and applause for the triumphant Mawokota team, while the disappointed Busiro supporters acknowledged their opponents' superior performance. The result served as a testament to the fierce competition and showcased the high level of football talent present in Buganda.
As the tournament unfolds, football enthusiasts can expect more exhilarating matches, showcasing the passion and skill of the region's top teams. The #AirtelMasazaCup2023 has set the stage for an enthralling competition, and all eyes are now eagerly fixed on the upcoming clashes that will determine the ultimate champion of Buganda's most prestigious football tournament.