In Morocco, the Uganda Cranes have gathered in full force with all 23 summoned players now present at the camp. Among them, winger Mato Rogers, who represents the Turkish side Sanlinurfaspor, was the last to arrive, touching down just yesterday. He wasted no time in joining his fellow teammates for a rigorous gym session.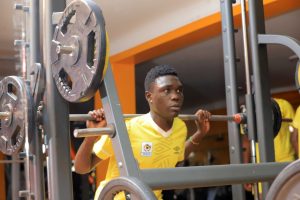 The upcoming challenge for Uganda is a high-stakes one – they are set to face Niger in a must-win AFCON qualification contest. The battleground for this crucial match is the prestigious Stade de Marrakech, where the Cranes will seek to secure their spot in the tournament.
Mato Rogers had already proven himself as a vital asset when he scored the sole goal against Tanzania. This kept Uganda's hopes for qualifying in AFCON 2023 alive and kicking.
However, the path to securing a place in the tournament is fraught with challenges. The Cranes must not just win but win convincingly, with a margin of at least three goals against Niger, who are also their final opponents. Their fate also hinges on a twist of fate, as they must hope for Tanzania to falter against Algeria.