Peace Kabasweka and Steve Tusiime shone brightly at the Afriyea Golf Academy Parent-Child Golf Competition held in Fort Portal, Uganda on Saturday. This event which was supported by AFRIYEA Golf, The Social Golfer, and Toro Club, brought together participants of various ages and skill levels, emphasizing inclusivity and diversity.
The competition aimed to nurture a passion for golf within the community while promoting essential social skills, environmental sustainability, and course engagement. Families found a unique opportunity to bond, improve their physical fitness, and expand their networks through golf.
Children, as part of their end-of-term holiday golf training, underwent assessments to track their progress and offer clear pathways for individual growth.
Peace Kabasweka and her 12-year-old partner, Steve Tusiime, emerged as the overall winners, impressively scoring 25 in five holes. Linda and Latif secured second place with a score of 27 Gross, while Gorret Kabahweza and her 6-year-old partner, Robson Ainomugisha, came in third with 30 Gross.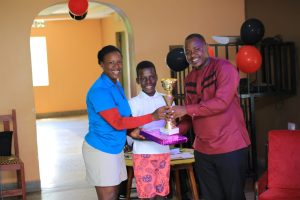 During the tournament, Thaddeus Byaruhanga earned recognition as the Player of the Season, and Shaykna Debra received the Smartest Award.
Kenneth Kaliba, the City Mayor's representative, presided over the event, praising AFRIYEA Golf Academy for its innovative approach in promoting sports, especially golf, in schools and the broader community.
Isaiah Mwesige, CEO of AFRIYEA Golf Academy, expressed pride in the partnership with The Social Golfer, aiming to create opportunities for young people in Uganda and Africa to play golf while developing crucial social skills, technology awareness, and environmental consciousness. The academy remains committed to offering educational opportunities to children through golf.
Peace Kabasweka, the elated winner, emphasized the positive impact of such competitions on the future of golf, fostering healthy competition and smooth generational transitions within the sport.
Ian Mullins, Editor at The Social Golfer, commended the partnership with AFRIYEA Golf Academy and their support in tracking children's handicaps using the TSG system. They share the ambitious goal of turning junior golfers into professionals by 2030.
The exciting competition provided young players with a platform to build confidence and develop their competitive skills, showcasing AFRIYEA Golf Academy's dedication to changing lives through the game of golf.