President Yoweri Kaguta Museveni, using his social media platform,  yesterday  announced a partnership with Summa, a Turkish construction company, to build a cutting-edge multipurpose indoor sports complex in Lugogo, Kampala. The complex, boasting a seating capacity of 15,000, will be situated at the National Council of Sports (NCS) premises.
Accompanied by the First Lady and Minister of Education and Sports, Maama Janet Museveni in the meeting, President Museveni welcomed Summa Construction Company to Uganda and pledged the government's support for this ambitious project. The First Lady expressed her gratitude to Hon. Peter Ogwang and his team for their unwavering commitment to boosting the sports sector in the country.
The envisioned complex will feature a 15,000-seat multipurpose indoor arena, a smaller indoor sports arena with a 3,000-seat capacity, a 25-meter swimming pool with eight lanes, a multi-purpose standard pitch, an athlete hostel accommodating 60 individuals, and an accommodation facility with 120 rooms. Additionally, it will include a showroom, shopping center, and state-of-the-art fitness gym, among other amenities.
The technical team emphasized that the current state of sports facilities at Lugogo does not meet international standards, despite the potential economic benefits that international events can bring in terms of revenue, job creation, and investments.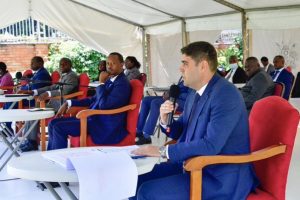 Mr. Murat Altun, the project manager of Summa Construction Company, assured that they are well-prepared to execute the project efficiently and on schedule. He highlighted their successful projects in various countries, including Rwanda.
Minister Ogwang shared that the complex encompasses approximately 12.6 acres of land and includes an administrative block for NCS, parking space for 1,000 cars, and a modern physiotherapy and wellness facility. He stressed that the outdated Lugogo complex, constructed in 1957 without major refurbishments, urgently needs an upgrade.
This transformative project, located in the upscale Kololo neighborhood, is expected to significantly boost non-tax revenue from $270,000 annually to approximately $22 million, strengthen talent identification and development, and become a source of national pride. It aims to become the leading sports facility in East and Central Africa.