Liverpool FC legend Steve McManaman recently visited Uganda for a two-day courtesy visit organized by Standard Chartered Bank. His trip coincided with the Standard Chartered Bank futsal tournament in Uganda.
During his stay, the former Liverpool player engaged with Liverpool fans in Kampala, visited the Joe Kigozi soccer academy, and had the honor of crowning the winners of the Standard Chartered Cup at Lugogo in the evening. Steel Tube emerged victorious in the one-day tournament, securing a 2-0 victory in the final against CFAO Motors.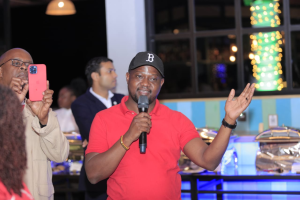 The "2023 Standard Chartered Cup" is an international 5-aside football tournament that offers football enthusiasts a unique opportunity to travel to the UK, attend an English Premier League match, and benefit from professional training sessions with "Reds" legends and coaches at the LFC academy. Participants also have the chance to attend match viewing sessions of Liverpool FC games.
While visiting the Joe Kigozi Academy, which focuses on nurturing the talents of over 150 children in sports, Steve McManaman praised the hospitality of Ugandans and expressed his willingness to return should the opportunity arise. He was particularly pleased to witness the abundance of young talents and emphasized that with proper nurturing, many of them could potentially reach top leagues around the world.
The Joe Kigozi Academy was established in 2019 by the General Manager of NBS Sport, Joe Kigozi, with the aim of helping underprivileged children achieve their dreams through sports.
Steve McManaman,  known as "Macca," is an English former professional footballer who played as a winger. He is widely regarded as one of the best players of his generation and is celebrated for his outstanding career, particularly as a Liverpool FC player.