In the evergreen Uganda Golf Club, the 2023 Uganda Golf Open found its rhythm during the Amateurs category this week. While seasoned golfers showcased their prowess across the greens, it was the spirited golf on display as the Sponsors Par 3 Challenge stole the show.
This delightful sideshow, an annual tradition, pitted sponsors against each other in a golfing spectacle that was as much about skill as it was about sheer fun. CEOs and cameramen, bank executives and brand ambassadors, all armed with clubs and determination were vying for their own title. Each team, a blend of experienced golfers and courageous non-golfers, brought its unique flavor to the game.
At the forefront of this thrilling contest was the NBS Sport team, led by the indomitable group CEO Kin Kariisa. Alongside him, the unyielding Joel Khamadi and focused cameraman Allan Sempebwa formed a trio that was looking to finish in the top three positions. With alternating strokes and brilliant teamwork, they carved their path through the challenging course, eyes set on victory.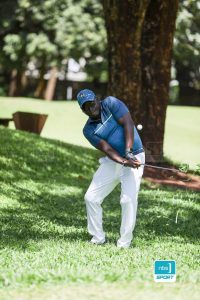 The rules were deceptively simple: two golfers trading tees and one non-golfer entrusted with the crucial task of putting. Group CEO Kin Kariisa and cameraman Allan Sempebwa, in a seamless dance of strategy, sent the ball soaring, while Khamadi expertly guided it towards its destination. The result? A spirited fight that culminated in a valiant second-place finish for Team NBS Sport, just a stroke behind the triumphant Medicell. Case Medical Services finished third.
Team NBS Sport might not have clinched the top spot, but they emerged as champions in the hearts of the audience. Their teamwork and strategy proved just enough for a podium, reminding everyone that in the world of golf, it's not just about holes in one, it's about the spirit of competition and the joy of the game.