The National Council of Sports (NCS) issued a statement today in which they officially revoked the Certificate of Recognition that had been previously granted to the Uganda Netball Federation (UNF). Consequently, the federation is no longer authorized to engage in any activities associated with the sport of netball on behalf of the Government of Uganda.
The statement was posted on the official X handle of NCS and it read :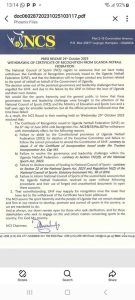 This development comes a fortnight following the decision made by Janet Museveni, the Minister of Education and Sports, to reinstate Brig. General Flavia Byekwaso as the interim leader of the Uganda Netball Federation until an unspecified future date.
The Uganda Netball Federation has grappled with governance concerns that prompted the First Lady to step in and initiate separate investigations by the auditor general and the Uganda Police into the activities carried out during Sarah Barbra Kityo's administration.