Over the weekend, the captain of the Rugby Cranes had to make a difficult decision that ultimately led to Uganda winning a closely fought game against Kenya at the Kings Park Arena in Bweyogerere, during the Victoria Cup.
Liam Walker, who entered the game as a substitute, was given the opportunity to take a crucial penalty kick in the game's final minutes by Ivan Magomu. This decision by Ivan resulted in the Rugby Cranes winning with a score of 21:20.
When questioned about this tough decision by Andrew Kabuura, the host of NBS Sport that evening, Ivan expressed that he didn't hesitate when the opportunity arose. He also believed that Liam was the best person to take the penalty due to their familiarity with each other's strengths from training together. Ivan emphasized that even if Liam had missed, he would take full responsibility as the captain. He also attributed their victory to their mental strength, which set them apart.
Walker's penalty kick secured a one-point victory for the home team , following their recent victory over Zambia at the same venue a week ago.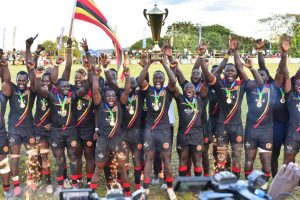 During the broadcast, Ivan Magomu discussed his personal life, revealing that, despite graduating as a lawyer, he is struggling with unemployment. He admitted that at one point, he considered quitting rugby, but he persevered, hoping for a more positive future.
"I consider winning the Victoria Cup 2023 a significant achievement because many people often doubt and miss such opportunities. I've spent a year working as a street lawyer, which was distracting, but such victories restore my hope. It's disheartening when you submit your CV to a panel, and no one pays attention to it. Nevertheless, I believe things will change," the captain shared.
Looking ahead, Kenya and Uganda are set to face off in Kisumu, Kenya, on Saturday for the second leg of the Elgon Cup.