BY GRACE LINDSAY MBABAZI
In a compelling display of prowess and resilience, Uganda Rugby Cranes 7's Safari 7's opener mirrored the peak and valley of competitive sports.
The opening test was a flyer – a 35-00 onslaught over SA ALL stars. The team's cohesion and strategic play on full display, set the tone for the rest of the fixtures.
With the momentum still on, the second game had a similar sting; 32-10 past the Red Wailers further stamped their solid mark.
The third fixture was not a familiar passage. Against the dormidable defending champions, Shujaa, Uganda was over powered, testing loss on scores of 05-17.
The loss, however, did little to outshine debutant Royal Kizito with a landmark try that announced his arrival as perhaps "The future"
Coach Tolbert Onyango puts the setback on a deviation from game plan that ensued chaos. He reinforces the need for patience against such formidable opponents like Shujaa.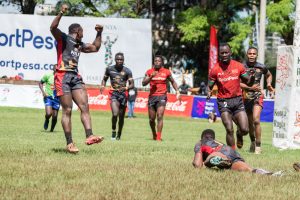 He emphasized this during moments in the match: "When we had the ball and maintained our composure, we made significant strides in the game and secured scores"
Hopes the lessons will be borrowed in the upcoming fixture against Kenya he anticipates to be a "physical challenge" .
He says focus should be on the need to "elevate their performance, focus on making tackles, get back up, and consistently execute,"
The Rugby Uganda Cranes Sevens are poised for a thrilling comeback on Sunday, November 18, with a morning 10am fixture against Tropic 7s. Fans can anticipate epic moments and renewed optimism from the Uganda Rugby Cranes who are eager to put it right in the next challenge. A gripping encounter awaits.